people
Traveling the world as an aircraft main­tenance engineer for MTU Maintenance Berlin-Brandenburg
Tim Wunderlich joined MTU Maintenance Berlin-Brandenburg's mobile repair team a year ago. The 22-year-old aircraft maintenance engineer has already visited Indonesia and Jordan.
11.2018 | Text: Thorsten Rienth
Text:
Thorsten Rienth writes as a freelance journalist for AEROREPORT. In addition to the aerospace industry, his technical writing focuses on rail traffic and the transportation industry.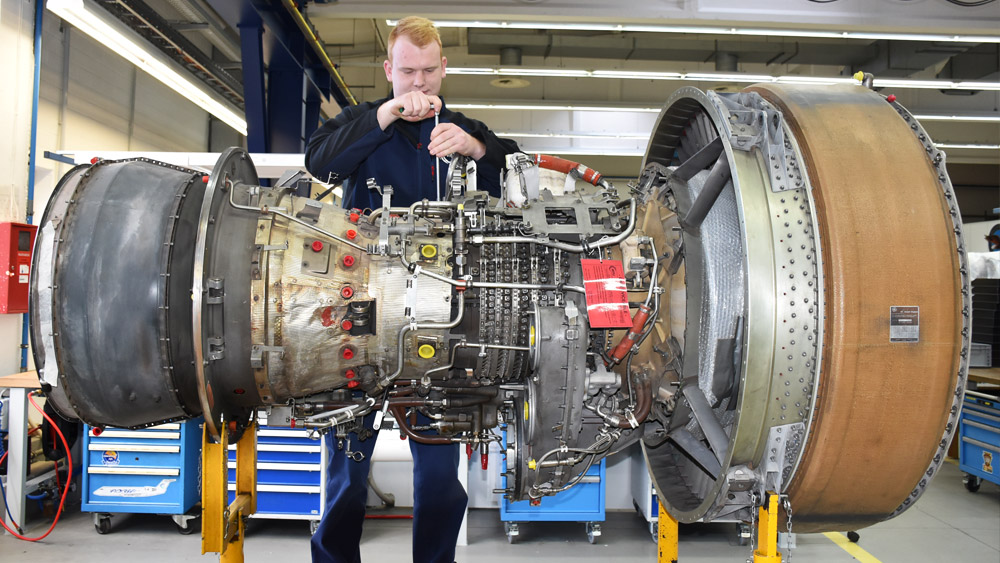 Germany's leading engine manufacturer offers a wide variety of apprenticeship opportunities. Part 2 of our series: Aircraft maintenance engineer Tim Wunderlich from the mobile repair team at MTU Maintenance Berlin-Brandenburg.
Every two years, the aviation industry flocks to Berlin; specifically, to the ILA Berlin at Schönefeld Airport, where the fairgrounds—and the skies above them—are thick with aircraft for a few days. A couple of years ago Wunderlich, then still a teenager, decided to go to the show. "Afterwards," he recalls, "I knew I wanted to work in this field."
Tim Wunderlich works for the CF34 mobile repair team at MTU Maintenance Berlin-Brandenburg.
Tim Wunderlich works for the CF34 mobile repair team at MTU Maintenance Berlin-Brandenburg.
Fast forward a couple of years: it was time for Wunderlich to train for a profession, so the Brandenburg native headed to the capital city once again. There he attended a conference for apprenticeships at which MTU Maintenance Berlin-Brandenburg had a booth. "I had a great talk with the MTU trainers." He put in an application with the company, got the go-ahead and started an apprenticeship as an aircraft maintenance engineer.
"The first day, I noticed right away how amazingly friendly and welcoming the work environment was," Wunderlich says. "It really brought out the best in me." And of course allowed him to work on aviation technology. "I was really impressed by how broad and diverse the training is." Trainees get to know practically the entire aircraft—from aerodynamics to the instrument panel in the cockpit. The training also covers machinery, including writing CNC milling programs.
Besides industrial gas turbines, MTU Maintenance Berlin-Brandenburg specializes in aircraft engines in the low and medium thrust classes. "That means engines for business and regional jets," the aircraft maintenance engineer explains. One of the engines, the CF34, has become Wunderlich's professional specialty.
After finishing his apprenticeship, Wunderlich first worked in CF34 disassembly for a year and a half before switching to the CF34 mobile repair team. "Whenever there's a problem with an aircraft somewhere in the world, we fly there as quickly as possible and try to repair it directly on the aircraft," Wunderlich says. Removing an engine from the wing and shipping it to Ludwigsfelde costs not only a lot of money, but a lot of time, too.
"Right now, I can't imagine doing anything more exciting," Wunderlich says. It's easy to believe him. Just a couple weeks ago, he returned from a repair trip to Indonesia, and shortly before that, he helped get an aircraft in the Jordanian desert back into the air.