people
Digitalization paves the way for predicting tool wear
Pere Massanés Padró is working on a simu­lation model that enables detailed predictions to be made about tool wear.
07.2019 | Text: Thorsten Rienth
Text:
Thorsten Rienth writes as a freelance journalist for AEROREPORT. In addition to the aerospace industry, his technical writing focuses on rail traffic and the transportation industry.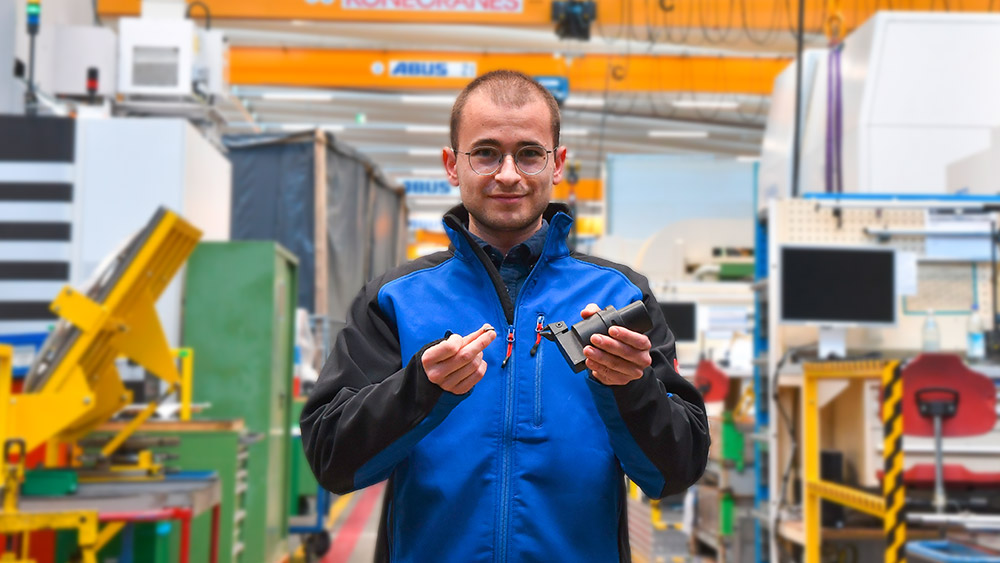 In­dus­tri­al tri­al and er­ror sounds like an ex­pres­sion from a time when dig­i­tal­iza­tion was noth­ing more than a vi­sion of the fu­ture. "In some cas­es, though, there are still no al­ter­na­tives to this ap­proach, and tool wear is a case in point," ex­plains en­gi­neer Pere Mas­sanés Padró. De­ter­min­ing ac­cept­able process con­di­tions that don't ex­ceed pre­scribed wear lim­its calls for ex­per­i­men­ta­tion that re­quires a mon­u­men­tal amount of time and ef­fort. "The on­ly way to gain a thor­ough un­der­stand­ing of how tool wear de­vel­ops is by con­duct­ing re­al­is­tic and time-con­sum­ing tests in every­day pro­duc­tion sce­nar­ios," he says.
Digitalization paves the way for predicting tool wear
Af­ter all, tool wear does not oc­cur in a uni­form man­ner. Its na­ture is ini­tial­ly de­gres­sive, then some­what lin­ear, be­fore fi­nal­ly be­com­ing pro­gres­sive. And, of course, it all de­pends on the ma­te­r­i­al and cut­ting speed. The mat­ter is so com­plex that even to­day, there are no mod­els ad­vanced enough to in­cor­po­rate tool wear in­to the de­sign of tools and pro­duc­tion process­es. Not even the fi­nite el­e­ment method (FEM), which is usu­al­ly the go-to op­tion for solv­ing phys­i­cal prob­lems in en­gi­neer­ing cal­cu­la­tions, is suf­fi­cient for pre­dict­ing tool wear in in­dus­tri­al ap­pli­ca­tions.
The con­se­quences of tool wear are far from in­signif­i­cant. If wear caus­es the shape of a tool's cut­ting face to change, this af­fects the con­tour of the work­piece. Sur­face in­tegri­ty and process sta­bil­i­ty both suf­fer as a re­sult. If such tool wear could be cal­cu­lat­ed in ad­vance, pro­duc­tion en­gi­neers could pre­cise­ly off­set it dur­ing the process by ad­just­ing the cut­ting speed, tool an­gle or feed rate, for ex­am­ple. In the aero­space in­dus­try, where ma­chin­ing of nick­el- or ti­ta­ni­um-based su­per­al­loys gen­er­ates high pro­duc­tion costs, the po­ten­tial of­fered by re­li­able tool wear pre­dic­tion is es­pe­cial­ly sig­nif­i­cant.
Pere Massanés Padró is working on a simu­lation model that can calculate tool wear in advance.
Pere Massanés Padró is working on a simu­lation model that can calculate tool wear in advance.
At the age of 18, Mas­sanés Padró en­rolled at the Uni­ver­si­tat Politèc­ni­ca de Catalun­ya in Barcelona to study me­chan­i­cal en­gi­neer­ing. At 22, he went on to earn a mas­ter's de­gree in ma­te­ri­als en­gi­neer­ing. "I de­cid­ed very ear­ly on that I want­ed to work abroad, where the ca­reer op­por­tu­ni­ties in my field are more at­trac­tive," he says. And his dream be­came re­al­i­ty when he saw a po­si­tion ad­ver­tised on­line for a mas­ter's stu­dent in MTU's ma­chin­ing sim­u­la­tion de­part­ment. Af­ter five months work­ing there as a stu­dent, MTU of­fered him a per­ma­nent po­si­tion as an en­gi­neer in the same de­part­ment. "This way, I could con­tin­ue work­ing on my top­ic," Mas­sanés Padró says.
The 26-year-old wants to use a hy­brid method to solve the prob­lem of tool wear pre­dictabil­i­ty. This in­volves rolling an­a­lyt­i­cal, em­pir­i­cal, ex­per­i­men­tal and nu­mer­i­cal ap­proach­es in­to one large sim­u­la­tion mod­el. Mas­sanés Padró's aim is to link process pa­ra­me­ters such as cut­ting speed, feed rate, cut­ting depth, tool geom­e­try and tool ma­te­r­i­al with phys­i­cal out­puts such as process forces, tem­per­a­tures, pres­sure, stress­es and strains in or­der to pre­dict how tool wear will de­vel­op.
Of course, this in it­self is still a com­plex con­struct. "But one that could be rep­re­sent­ed in dig­i­tal form," Mas­sanés Padró says. It would al­so dra­mat­i­cal­ly re­duce the amount of tri­al and er­ror in­volved. "With on­ly a very small num­ber of ex­per­i­men­tal tests, and with rea­son­able ac­cu­ra­cy, we'll be able to pre­dict the in­flu­ence that dif­fer­ent process con­di­tions have on tool wear."